Kilim, Kitchen & Entryway Rugs
Kilim, Kitchen and Entryway Rugs
Our kilim rugs and rugs for kitchens and entryways add room-flattering scale and protect hardwood floors and carpets. Choose from woven yarn rugs with colorful designs, or select from seagrass, jute and sisal rugs in soothing natural tones. We carry intriguing kilim, kitchen and entryway rugs in sizes to fit any spot, from small rugs for kitchen use to long runners that brighten hallways. Use larger Pottery Barn rugs under the dining room table and in the foyer for added warmth and character. Sisal and other fiber rugs come in a variety of styles and sizes, and most are available with coordinating color bindings around the edges. Some rugs may be special ordered in extra widths and lengths to fit oversized rooms and patio areas.
Our knit rugs made of recycled yarn are available in traditional kilim designs as well as geometrics in bold colors. Recycled knit rugs are also available in more sedate tones to keep the focus on the room and its overall cohesion. These versatile rugs work indoors or outdoors for extra flexibility in arranging seating and entertaining areas. Make the most of porches, sun rooms and outdoor kitchens by placing accent rugs in these areas to create cozy spaces to visit and relax. Add var br_related_rid = "R3iibhxg6rgi1g5pdlshw-uf,r1,m1";

Related Products

Carissa Indoor/Outdoor Rug - Natural

A two-ply cabled-yarn weave adds depth and texture ...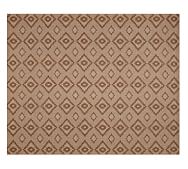 Carissa Indoor/Outdoor Rug - Natural
Description
A two-ply cabled-yarn weave adds depth and texture to our rug. Its dense pattern and stain resistance make it perfect for high-traffic areas, indoors or out. Made of of 100% polypropelene. Use with our Rug Pad (sold separately to ...