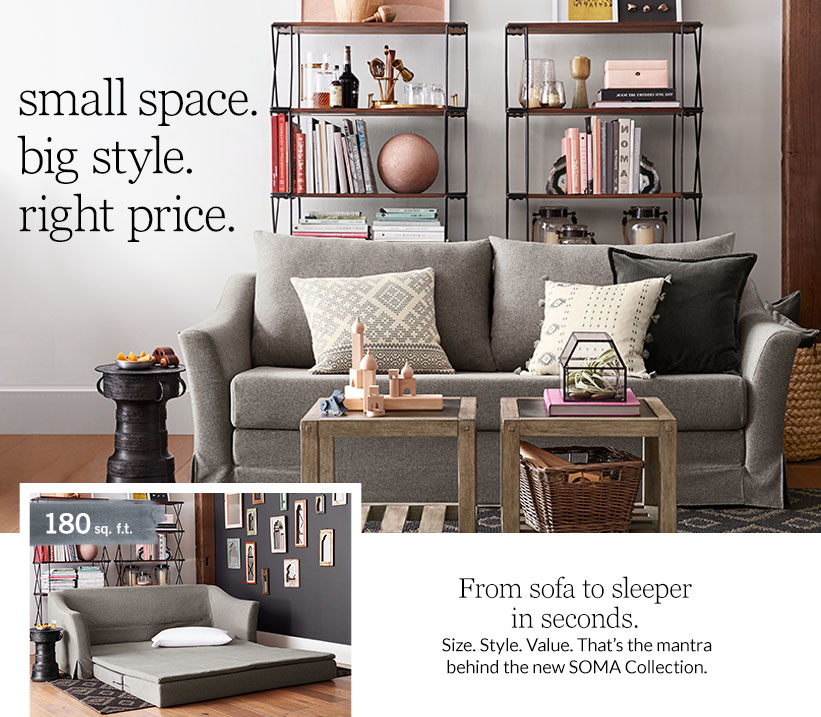 SoMa Sofa & Sectional Collection
Named for a central neighborhood in Pottery Barn's home-base city of San Francisco, the SoMa collection is just as stylish and modern as its namesake. Inspired by the specific needs of an urban apartment dweller, the SoMa Collection embraces the efficiency and small scale of city life. These carefully designed furniture pieces provide clean, comfortable elegance in compact proportions, giving you everything you need to make a comfortable lounge area in a small apartment or house. With options including two-seater sofas, armchairs, tables, ottomans and configurable sectional pieces, the SoMa Collection offers a fantastic range of options that you can mix and match to create the ideal lounge layout for your home.
SoMa sofas and sectionals offer versatile features in a compact package. This collection includes sleeper sofa options that you can use when you have a friend or family member visiting from out of town. Our SoMa sectionals may even have some storage space underneath the seat so you can stow blankets, extra pillows or even spare household items that you can't fit in your available cabinets and closets. Small-space living is all about efficiency and making use of available space, and with SoMa sofas and sectionals, you can make this task a little bit easier.
In addition to providing physical versatility, the SoMa collection embraces a subtle color palette so you can capture the exact style you want to see in your home. These pieces work well in a small living room, but they can also find a place in other parts of the house, including your home office, bedroom or guest room. You can pick out a petite armchair to give yourself a little extra seating in your bedroom or select a sleeper sofa to use in your home office for a dual-purpose guest sleeping area. There are lots of possibilities to consider with the SoMa Collection.
Whether you choose a full set of furniture pieces from the SoMa Collection or you opt to mix and match SoMa sofas and sectionals with coffee tables from our other collections, you'll have the power to create a lounge setup that works for your home. This collection was designed with small living spaces such as compact apartments and tiny houses in mind, but that doesn't mean you can't use SoMa tables, chairs, ottomans, sofas and sectionals in larger homes as well. If you're looking for a casual take on modern elegance, the SoMa Collection may be just the right choice.