Framed Architectural Prints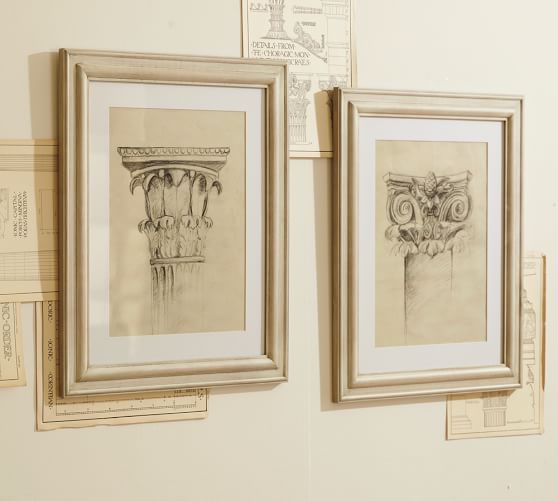 Overview
Studies of Greek columns by our in-house artist are reproduced with remarkable accuracy on these oversized prints. Her renderings depict the bold scrolls of an Ionic column and the ornate acanthus leaves of a Corinthian column in loose, sketchy strokes.
16" wide x 20" high
Frame is crafted of Alder wood.
Distressed antique finish.
Printed on natural parchment.
Choose Ionic (shown right) or Corinthian (shown left).
Dimensions & Care
Care
Dust with a soft, dry cloth.
Shipping & Return Info
SHIPPING
UPS can deliver most in-stock items within 4-5 business days.
Next Day Delivery and Processing
We can arrange for next day delivery to most destinations within the contiguous 48 states, for an extra charge of $17.50 per address. If we receive your order by 6pm PT Monday through Friday, you'll receive your order the next business day; orders placed on Friday after 6pm PT through Sunday will arrive on Tuesday. Note: Next Day Delivery service is not available for some oversized items, White Glove Delivery, out of stock items, personalized items or for items shipped directly from the manufacturer.
Surcharges
Select oversized items have an additional delivery and processing surcharge; this charge is listed below the item price.
View the complete Shipping and Delivery Information page.
HASSLE-FREE RETURNS
We take great pride in the quality and craftsmanship of each and every Pottery Barn product and we hope you love your purchase. If for any reason you do not, you have 30 days – or 7 days for all Quick Ship upholstery items – to return your purchase for a full refund or exchange. You can return most non-furniture items to your local Pottery Barn store – FREE.
Exceptions
Delivery fees are non-refundable and prior purchases are not eligible for a price adjustment. The following items are non-eligible for returns or exchanges:
Monogrammed items
Mattresses
Gift cards
Special-order items (including made-to-order upholstery and custom order rugs)
Final Sale items (identified by a price ending in $.X7 or $.X9)
Items damaged through normal wear and tear.
Questions? See our full Returns Policy.
Framed Architectural Prints
| Item | Price |
| --- | --- |
| Framed Corinthian Column Print | No Longer Available |
| Framed Ionic Column Print | No Longer Available |
Pricing may vary at time of purchase.
Product subject to availability. If you have any questions regarding this item(s), please call
1.888.779.5176
.